Make Drupal SEO Friendly
Submitted by kristen on Mon, 06/01/2009 - 23:53
Are you wondering how to make Drupal SEO friendly? You can start by taking a look at the list of Drupal SEO modules that are available for free.
Also, I have just finished version 1 of my Drupal SEO Friend Module. It has been accepted at drupal.org and is available at: https://www.drupal.org/project/seo_friend. Download the tar file, untar it into your sites/all/modules directory (or wherever you are keeping your 3rd party modules), enable it at admin/build/modules, and then check out the settings page at /admin/content/seo_friend and reports at /admin/reports/seo.
Although I have tested this locally, please try it first on a development version of your site rather than the live site. It does not modify your content and mostly contains error checking and reports, but this is good practice in general when you are installing new modules.
For a current feature list, please see the Drupal SEO Friend project page. The features do not duplicate and do not compete with any existing Drupal modules. The SEO Friend module is meant to be used along side the existing Drupal SEO modules to make them more effective. That will help increase Drupal SEO friendliness.
I do intend to add new features in the future. If there are additional features that you would like to see in the SEO Friend module, please feel free to contact me. Also, if you find any bugs, please let me know right away and I will make sure they are fixed asap.
Are you wondering why I named the module "SEO Friend"? I thought it was a nice play on words since the goal of the module is to help you make your Drupal site more SEO friendly.
Here are some screenshots: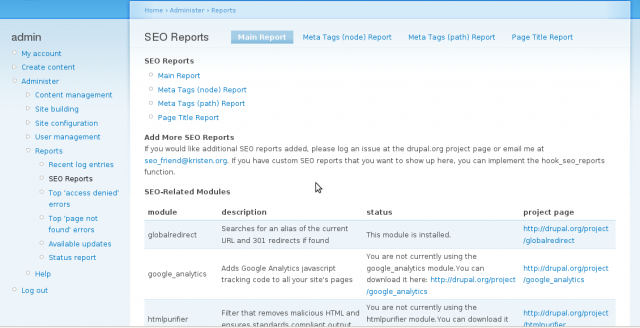 SEO Friend Main Report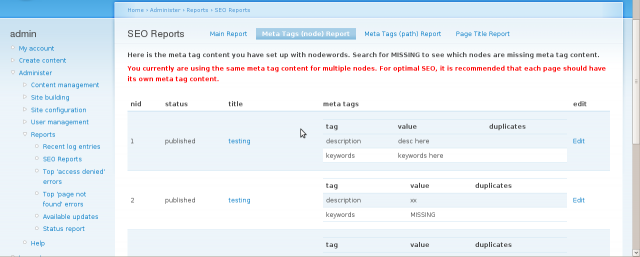 SEO Friend Nodewords Report

SEO Friend Nodewords by Path Report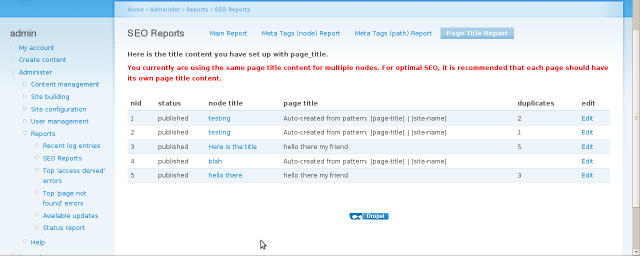 SEO Friend Page Title Report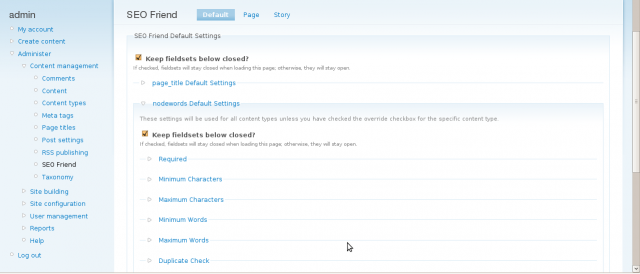 SEO Friend Default Settings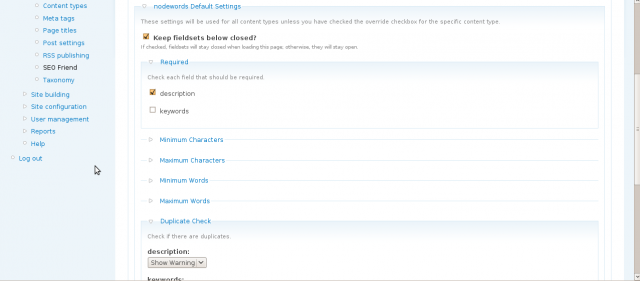 SEO Friend Nodewords Settings
This is a featured content block that has been configured to show blog nodes with terms SEO or Drupal SEO by the author kristen. It shows random list of 20 results in the block and 30 results on the more page.