Tracking Redirects with Google Analytics
Submitted by kristen on Tue, 04/13/2010 - 19:05
I'm going to test out the advice found here:
http://www.seoracle.com/google-analytics-how-to-tutorial/analytics-redir...
on tracking redirects in Google Analytics.
I'm going to use the path redirect module to redirect a dummy page to this page with the info below tacked on:

www.yourdomain.com/redirected-page-name?utm_source=yoursource&utm_medium...

I'll write some more after I hook it up and see if it works....
Ok, I added the redirect using path redirect so that:
http://kristen.org/test-redirect
redirects to:
http://www.kristen.org/content/tracking-redirects-google-analytics?utm_s...
I went to it a few times but it's not showing up yet in Google Analytics. I'll see if I need to configure something on that end...
It may take some time to see anything according to this post: http://drupal.org/node/689264 though I'm not even seeing anything if I drill down. But, this is a new page, so maybe it will pick it up in a few hours.
Meanwhile, I'm going to try changing the campaign/etc to something else:
http://www.kristen.org/content/tracking-redirects-google-analytics?utm_s...
and see if this or the previous or both eventually show up.
Followup: (9/29/10) I was just prodded for the results of my testing. The campaigns *did* show up so just be patient. Here's what it looks like on the Google Analytics campaign screen: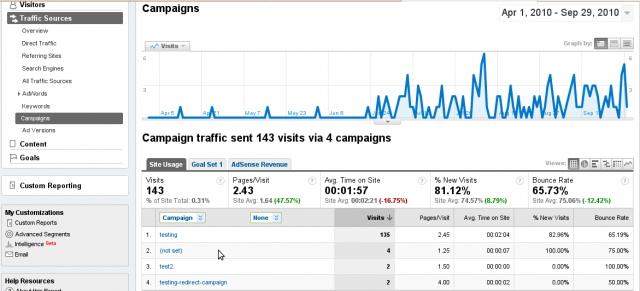 Google Analytics Campaign with Redirects
This is a featured content block that has been configured to show blog nodes with terms SEO or Drupal SEO by the author kristen. It shows random list of 20 results in the block and 30 results on the more page.