Drupal Node Teaser SEO
Submitted by kristen on Sat, 01/03/2009 - 07:00
In Drupal, the node teaser is the part that shows up on summary pages instead of the full node body. By default it is the first 600 characters of the node body. This can be changed via Administer > Content Management > Post settings (admin/content/node-settings). But, you can better control how much of the node body to show by using a special comment:
<!--break-->
In Drupal 6, you can also use the "split summary at cursor" button to split up the summary and rest of the node body, but for some reason I prefer using the special <!--break--> comment. If you use the comment, though, and go back to edit the node, it will split up the content like you have used the "split summary at cursor" anyway, so it doesn't really matter which you do.
Here's a screenshot of what the "split summary at cursor" button looks like when you are editing:

And here's what it looks like after you click the button (the <!--break--> or cursor after the first paragraph in this case):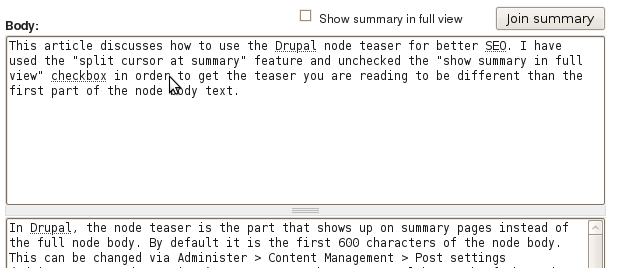 In general, for better SEO, it's a good idea to limit the amount of content shown on the summary pages to just a couple/few sentences (or the first paragraph). Enough to let users know what the node is about but not so much that you end up with large amounts of duplicate content all over the place.
This is particular true for nodes with little content on them. If you have a node with only 600 characters and the summaries all show the first 600 characters, then you are essentially showing the full node throughout the site. Although, it's probably not a good idea to have such a short node, it happens sometimes, particularly if you are simply giving a quick blog update about some event or article and linking off to another site.
In Drupal 5, you can use the nodeteaser module if you want your teaser to be different than the first part of your node body. In Drupal 6, you can have a separate teaser by using the "split summary at cursor" button and then unchecking the "Show summary in full view" checkbox.
So, if you have time, you could always write a short teaser that is totally different than the text shown in the node body. That would be the good Drupal node teaser to use since that would reduce the duplicate content somewhat (the same teaser will likely show up on different summary pages throughout the site so you still will have duplicate content).
This is a featured content block that has been configured to show blog nodes with terms SEO or Drupal SEO by the author kristen. It shows random list of 20 results in the block and 30 results on the more page.