Drupal Meta Tags (nodewords) Module for SEO
Submitted by kristen on Fri, 09/05/2008 - 18:33
I setup Drupal on kristen.org a couple weeks ago. I intentionally set it up with the base installation and didn't add any 3rd party modules. The reason being that I set up this site to show how you can add in various Drupal modules and configure Drupal for SEO (search engine optimization).
Thus far, I've done very little SEO on the site besides the first 5 steps in my Basic SEO Top 10 list for a few blog posts and articles. The only extra module I did add in the is Drupal Google Analytics module for tracking purposes.
Now I need to start doing the Drupal SEO configuration. For today, I'll add in the Drupal metatags (nodewords) module so that we can work on step 9 in the Basic SEO Top 10 list and add our Drupal meta tags.
Download Drupal metatags (nodewords) module
Unzip nodewords tar file
Ftp nodewords directory/files

- I just installed and tried out fireftp
and it works great. Put the directory in sites/all/modules.

Enable nodewords module

- Shown as Meta Tags

Edit content and add meta text

- You'll see a "Meta Tags" section when
you edit your content now.
For example, I edited my Basic SEO Top 10 web page and added a description and some keywords in the drupal Meta Tags section. In order to see these, go to that page and do a "view source" and look for "meta". I did add some keywords in but these aren't typically very useful for the big search engines so don't spend much time on those. Do make sure not to use the same keywords too much in either the description or the keywords section or it will be considered spam.
Here's an example of the search result before I did the Drupal meta tags:
---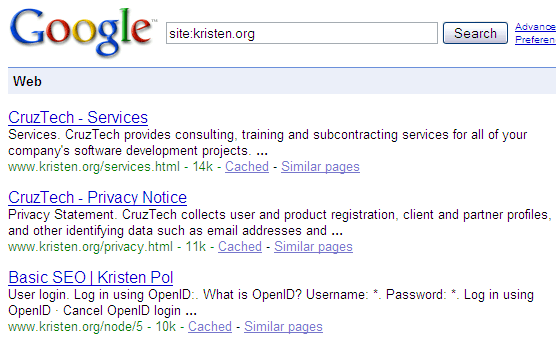 ---
Once Google has re-indexed the page, I'll add in an image of the new search result.
Now you can easily add the Drupal meta tags (nodewords) module to your site and start adding your own drupal meta tags for the best SEO.
Here's what the metatags look like now:
This is a featured content block that has been configured to show blog nodes with terms SEO or Drupal SEO by the author kristen. It shows random list of 20 results in the block and 30 results on the more page.